Section 7

Appendices
7.1

Glossary

Organization VCRIS accounts are arranged by organization. An organization may be a company, a division of a company, a University department, an individual researcher, etc. A VCRIS organization may have one or multiple related users within it.

Project A VCRIS project is the organizational container that holds survey information about a collection of sites or properties. Your CRM projec may be split into multiple VCRIS projects for ease of management, but grouping together will reduce repeated data entry.

AH AH is VCRIS and DHR shorthand for architecture.

AE AE is VCRIS and DHR shorthand for archaeology.

Report The word report is used ito mean different things within VCRIS. 1) A CRM report is a technical write up of the cultural resource management survey. DHR keeps bound hardcopies in our archives. 2) When you see "generate reports" within VCRIS, that refers to a database output (PDFs of site forms and property records).

Roles There are three main user roles in VCRIS. - Organization Administrators can manage license renewals, as well as add and edit user information. - Data Entry users can only input information, not search. Data entry users can only access VCRIS projects they have created themselves, not projects belonging to the whole organization. - AH & AE Editor/Viewer users can search VCRIS and enter data. These users can also log in to the GIS feature service if applicable. This level allows access to all projects created by the organization.
7.2

Archives Procedures
7.2.1

Requesting DHR ID Numbers
7.2.1.1

Architecture

ID numbers for newly surveyed properties are issued by DHR staff during the Initial QC approval process. If submitting a project of more than ten new survey records, please send the Architectural Survey Manager a DHR ID request spreadsheet when the project is submitted for Initial QC. The DHR ID Request spreadsheet can be downloaded here.

The spreadsheet will be returned with assigned DHR ID numbers. The descriptions above each column provide additional information on how to complete each column.

7.2.1.1.1

Archaeology

Archaeology DHR IDs (Smithsonian Trinomial Numbers) are assigned upon approval of Final QC by DHR Staff and emailed to the individual(s) editing the VCRIS project.
7.2.2

Property Naming Conventions

The standard name for most properties will be the Function/Location name. This should consist of the historic function of the Primary Resource on the property, followed by the property's address. For example: House, 1719 14th Street, or Commercial Building, 101 Maple Avenue. The Property Name Explanation of "Function/Location" should then be selected for this entry.

Other property names should be entered in this field as appropriate (Historic, Current, Descriptive, Alternate Spelling, and Alleged).

It is not necessary to duplicate names in order to provide multiple name explanations. You do not need to enter the same property name twice.

For example, if the Fifth Street Baptist Church has historically been known by that name, and is currently known by that name, you can select Historic or Current as the name explanation.

Property Address

An address entry with an Address Explanation selected from the associated drop-down menu is required for each property. If the property does not have a specific address, enter the street name for the nearest road in this field. Do not use abbreviations in the Street Name or Alternate Route No. fields. For example, spell out Maple Avenue, rather than abbreviating the word to Ave. or Av. Any directional additions to a street address should be entered in that specific field, rather than into the Street Name field. For example, a property on North Main Street should be entered by entering Main Street in the Street Name field, and then selecting North in the Street Directional field.

If the street is also a state or county route, and the route number is known, include that in the same Current address entry as the street name. For example a property at 3000 West Hull Street Road / Route 360 would have the following single entry in VCRIS: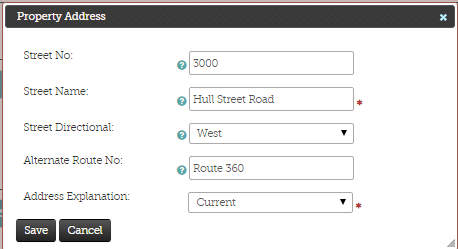 7.2.3

Photographic Documentation

Hard-copy photographic prints are not required for archaeological material submission.

Important Note: If submitting photographic documentation to accompany a National Register of Historic Places nomination, please refer to "**Photographic Documentation for National Park Service (NPS) Register Nominations"**.

When submitting survey materials DHR requires, commercially printed, labeled black-and-white or color photographs AND correctly labeled and formatted digital image files (either in the original color, or in electronic files created from 35mm negatives).

There are two source options for producing and submitting photographic prints and the electronic image files that are required for DHR architectural survey: traditional 35mm negatives, or digital files. The following are requirements of all photographs submitted to DHR. Below these general guidelines are the technical requirements for each type of image.

The preferred photographic prints will be either 3½- by 5-inch (preferred) or 4- by 6-inch, unmounted, and commercially printed in black-and-white or color. Individual prints are preferred and encouraged. 3½- by 5-inch or 4- by 6-inch images arranged and labeled on 8- by 10-inch photograph paper will be accepted if all the images are of the same resource. Photographs should be labeled on the reverse side, using soft-lead pencil or china marker. Pens, felt-tip markers, and adhesive labels are not accepted. It is also acceptable to label the photographs within the white margin on the front of the image. When labeling in the margin on the front of the photographic print, the information may be generated by computer, or an archival photo labeling pen may be used.

In the lower left corner on the back or in the white margin on the front of each photograph, provide the following information:

Example of accurately labeled photograph (reverse side):
Negative Number (for 35 mm prints only)

DHR identification number for the resource

Date the photograph was taken

Name of photographer (Optional)

A brief description (e.g. "Main House, south elevation" or "Main House, second-floor, southeast bedroom")
Photographs must be submitted in transparent, Print File brand photograph sheets (style 35-10P, 46-6P, or 810-2P). Each photograph sheet holds up to ten 3½- by 5-inch, six 4- by 6-inch photos or two 8- by 10-inch photo pages, arranged back-to-back. The DHR ID number(s) should be written in the white margin along the edge of the photo sleeve, along with the date the photographs were taken. Adding the photographer's name is optional.
Digital Images:

Electronic image files must be saved as uncompressed .JPG files on DVD or CD-R media. The size of each image must be 1600 x 1200 pixels at 300 ppi (pixels per inch) or larger. The file size should be less than 10 megabytes. It is recommended that digital images be saved in 8-bit (or larger) color format, which provides maximum detail even when printed in black-and-white. Digital images should be printed according to the general photography guidelines above.

DVDs and CD-Rs should be labeled with a project name, agency/company, month/year of photographs, project/contract # (if applicable), and the range of DHR resource numbers saved on the CD-R.
Digital images must be named using the following convention:
DHR Identification Number

Resource Name (may be abbreviated)

Year (that the photograph was taken)

View/Description
Folders:
All of the digital image files for a single property should be collected within a folder prior to being saved on the DVD or CD-R.
The folder should be named using ONLY the DHR identification number.
Examples:
7.2.3.1

Historic Districts

When labeling survey materials for a historic district survey:
Hard-copy printed materials (site plans and photographs) should be labeled and organized under the property's three-part historic district tertiary number.

If previously recorded, all electronic materials (the VCRIS data entry and digital image files) must be labeled and organized under the previously issued two-part individual identification number for that property.
| Organizing Survey Materials – Historic Districts | | |
| --- | --- | --- |
|   | Previously Recorded | Newly Recorded |
| DHR ID Numbers | Originally recorded under a seven digit number, retain this number in the record, add on a tertiary number to the Other DHR ID field | Recorded with tertiary number only |
| Hard Copy Submittals | Organized with tertiary Number | Organized with tertiary number only |
| Digital Submittals (JPGs) | Labeled and organized in folder with original seven digit number | Organized in folder with tertiary number only |
7.2.3.1.1

(35mm) Film

If you are using 35mm film for your survey, and if you are submitting the negatives for storage in the DHR Archives, then a negative number is required for those negatives. Each roll of 35mm film receives a unique 5-digit negative number that is assigned by the DHR Archivist, Quatro Hubbard, at quatro.hubbard@dhr.virginia.gov, or (804) 482-6102.
Negatives are submitted in Print File brand, style 35-7BXW protective transparent sleeves in strips of four to six frames.

Each strip must have the five-digit DHR negative number written between sprocket holes at the top right corner.

Do not cut apart the negative strips or the negative sleeves.

Label the top of each negative sleeve with the DHR negative number, photograph date, and the DHR identification number(s).

For historic district surveys, the district name must be included on the negative sleeve.

The photographer's name and/or the agency/consulting firm's name may be added to this label (optional).
7.2.4

Hard Copy Submittals
7.2.4.1

Architecture

Once a project is completed in VCRIS, hard copy survey materials must be submitted to DHR. Hard copy submittals include a printed VCRIS form, a site plan, printed photos, and digital images. These materials should be held together with a plastic paperclip.

For newly surveyed properties, arrange the printed survey forms into groups of no more than five, arranged in sequential numeric order by DHR ID. This grouping reflects how the survey forms will be filed in the DHR Archives. The each survey form and site plan should be individually held together with a plastic clip.

For newly surveyed properties, it is NOT necessary to append property photos to each survey form. Instead photos for more than one property can be added to the same photo sleeve.

For previously surveyed properties, the survey photos for each property should be in individual photo sleeves. Please do not combine photos for previously surveyed properties into one photo sleeve. These forms will be filed in the preexisting DHR Archives folder.

For historic districts, hard-copy printed materials must be labeled and organized under the property's three-part historic district tertiary number. This is for both previously recorded and newly recorded properties.

For Cost Share surveys or other projects where DHR has provided archival envelopes, each envelope should hold no more than five survey forms arranged in sequential numeric order by DHR ID and the associated photo sleeves. The file envelopes should be labeled front left to right in pencil with the following information for each form in the envelope:
Historic name of property, or function/address
County, independent city, or county-incorporated town (for example, Montgomery- Blacksburg)
DHR ID